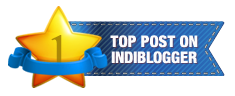 The park seemed empty, he was early. He pulled down his cap to shield his eyes from the afternoon sun, as he looked around the park for a familiar face. Not finding anyone in the quiet park, he bounced his ball on the ground and tried to catch it. He missed it many times, and the ball rose high above his head; he jumped and still missed.
On the edge of the bench, not very far, sat another kid. When the first kid entered, it looked for a moment, this one would join him to play. He glanced at the other's spotless blue shirt, pants, and matching shoes. He shook his head, and went back to digging the ground with his toe. He had dug a nice hole when a ball rolled near his toe. He hesitated, afraid of spoiling the smooth exterior of the ball with his rough, cracked hands. He saw suspicious eyes staring at him, and bent to pick the ball.
The owner of the ball was nervous too. Would the other kid give back his ball without a fight, he wondered. It looked like the other kid had already been in a fight; his clothes were dirty, and his shirt was missing two buttons. He shifted his weight from one foot to the other, and pulled at his cap. Out of the corner of his eyes, he noticed his mother was still at the park gate, chatting with her friend. He relaxed, when the other boy smiled and threw the ball towards him, which he easily caught.
It was way better than trying to catch the bouncing ball. So, he threw the ball back at the surprised kid, who threw it back. As the ball went back and forth, the atmosphere of the park changed. Two kids played in the park, and the park was no longer quiet. It was filled with bubbling laughter, and carried a cheery note.
"One minute, I'm distracted and you get yourself in trouble," the mother caught the ball mid-air and pulled her son along. The confused kid turned to bid goodbye to his friend, while his mother dragged him away from the park.
The little boy stood transfixed for a minute before returning back to his bench, in the silent park. What troubles did his new friend have, he wondered. He may be only six, but he knew about trouble. It was when ma couldn't find anything to make dinner, and he had to sleep hungry. It was when papa came home tipsy, and beat them both. He hoped his friend would be okay. Not for one moment did it occur to him, that he was the referred trouble.
This post is part of Shankhnaad for happy children. To know more about it, and read other posts, check Happy children equals a happy world.